Baby and Me Prenatal Group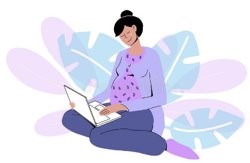 Our Baby and Me program is a Canada Prenatal Nutrition Program that supports the health of pregnant women, mothers and babies in Ottawa. In this program, parents will learn about baby care, healthy eating, healthy pregnancy and meet other people who are breast-feeding. This program is facilitated by a Registered Dietician, Registered Nurse and International Board Certified Lactation Consultant.
Eligibility Criteria
Must live in our catchment and be pregnant at the time of registration.
To register call our Early Years Registered Nurse at (613)737-7195 ext. 2379.
Hours of Operation
1st and 3rd Wednesday of the month at 10:30AM-12PM
Location
This program is conducted via Zoom. Link will be provided at registration.