High School Outreach Clinics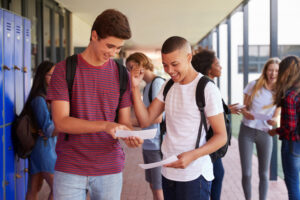 In partnership with the Ottawa Carleton District School Board, we offer primary care services to two high priority high schools within the catchment. Many of the students served are from marginalized communities, uninsured, or have poor social supports. This program decreases common barriers for accessing primary care and school staff can work collaboratively to improve student outcomes: both in and out of school. For over a decade, this clinic has provided timely, evidenced-based client-centered care to support the overall wellbeing of students.
A nurse practitioner runs the health clinic two days a week at each school offering health care services to youth attending Ridgemont High School and Gloucester High School. Assessment and management of acute episodic conditions, sexual health issues and mental health care are the primary focus of this clinic.
Eligibility Criteria
Students enrolled at Gloucester High School or Ridgemont High School.
Hours of Operation
September to June (school year)
Each school receives services 2 days/week
Location
Ridgemont High School
2597 Alta Vista Drive
Gloucester High School
2060 Ogilvie Road