Seniors Health Promotion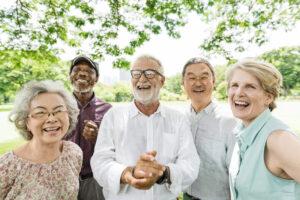 Programs and services that support community connections, skill building, and information-sharing to enable seniors to support, and strengthen healthier lifestyles. Activities may include: social events, workshops and exercise programs. These various programs improve wellbeing, physical, social and mental health.
Eligibility Criteria
Adults 55+ who live in the catchment area.
Hours of Operation
Chair Yoga – Mondays 10:30am – 11:30am
Coffee Connection – Tuesdays 10:00am – 12:00pm
For information about other upcoming events, exercise programs or activities, please contact our Seniors Health Promoter at (613)737-7195 ext. 2323 or katiam@seochc.on.ca
Location
1355 Bank Street, as well as various locations in our community.
Some activities are currently offered both: in-person, and via Zoom. Please contact us for a link to participate virtually.