Harm Reduction Supplies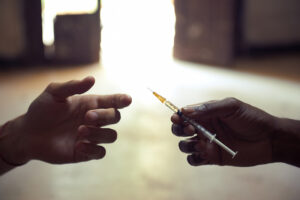 Harm reduction and support services offer individuals who use drugs access to safer supplies and essential information in a non-judgmental environment that fosters growth and health.
The Anonymous Needle Exchange & Safer Inhalation (NESI) Program offers harm reduction services for people in the Ottawa area who use drugs. Supports include safer inhalation and injection supplies and collection and disposal of used equipment in a supportive and informative environment.
Our Ottawa harm reduction services are available Monday to Friday from 1:00 PM to 4:00 PM at 1355 Bank St. Suite 600.
Eligibility Criteria
These services are available to anyone living in the Ottawa area who uses drugs.
Hours of Operation
Monday to Friday 1:00pm to 4:00pm
Location
1355 Bank St., Suite 600, Ottawa, ON