Counselling Services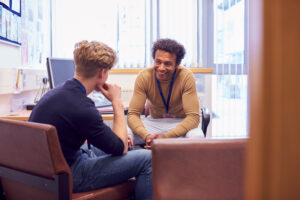 South-East Ottawa counsellors apply a strength-based and trauma-informed approach to counselling for our community. Support is available to individuals, couples and families dealing with Mental Health challenges. We provide support for:
Anxiety
Depression
Trauma
ADHD
Schizophrenia
Bi-polar disorder
Isolation
Self-harm
Eligibility Criteria
Please contact us to explore our counselling service options.
Hours of Operation
Monday to Friday 8:30-4:30
Call (613) 737-5115 ext. 2386 for an assessment.
Location
Appointments can be offered virtually or in-person.
Main site: 1355 Bank St, Suite 600, Ottawa, ON